90% of all manufactured goods produced worldwide are touched by abrasives in some way, in some part of the process. Global leadership in the field of coated abrasive splice technology requires the highest quality products and the strongest technical capabilities. Market reputation, economic risk and safety – much is at stake.
ACAB Srl is distributor for Italy and Europe of Sheldahl® branded uncoated splicing tapes for abrasive belts.
Sheldahl® creates, manufactures, and distributes technically advanced coatings, dry film adhesives, special performance tapes and engineered flexible laminates. Sheldahl® brand technical materials are renowned worldwide. Sheldahl® brand innovative material solutions began in 1955. More than 70% of abrasive belt manufactures in the world choose Sheldahl® brand adhesive and tape products.
Sheldahl's Sheldahl brand splicing tapes are the undisputed, worldwide leading brand of abrasive belt splicing products. Sheldahl's scientists and engineers patented Unidirectional tape technology more than 30 years ago and they continue to advance their process and product capabilities:
Experience - Over 60 years manufacturing Specialty Tapes.
Highest Reliability – the only totally integrated process controlled manufacturer.
Highest Quality – the only manufacturer ISO 9001, TS16949 and ISO 14001 certified.
Highest Tape Performance – the most rigorous requirements and unmatched product testing.
Market Leading Responsiveness – dedicated Customer and Technical Support.
Learn more about the Sheldahl® family of high quality, reliable materials serving the abrasives industry. Contact us by calling + 39 0123 417833, or have us contact you directly by registering to our web site or by sending us an e-mail.
---
Our offer of splicing tapes
Sheldahl® brand uncoated splicing tapes are pre-primed to obtain maximum bond strength when using a thermosetting adhesive, particularly polyurethan. The standard products consist of polyester film reinforced with polyester yarns.
Below is listed our standard products line with suggested applications: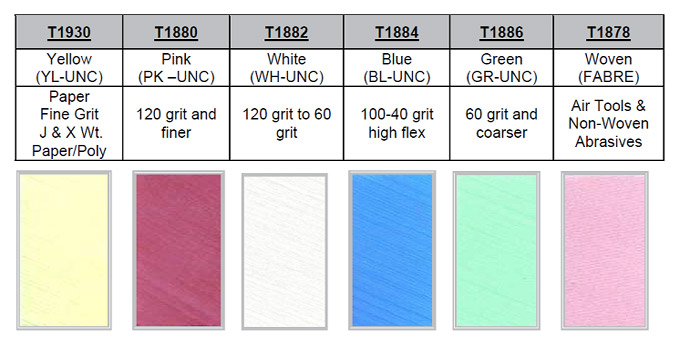 In order to guarantee fast delivery, ACAB Srl manages in Italy a stock of rolls 100 meters long, in width 19mm (3/4") and 25mm (1"), for the most requested splice angles (45°, 55°, 67°, 75°, 80°).
Specialty products (for type of material, film width and / or splice angle), suitable for specific and particular applications, are available upon request.