SBC-480
Small bands and spiral bands cutter.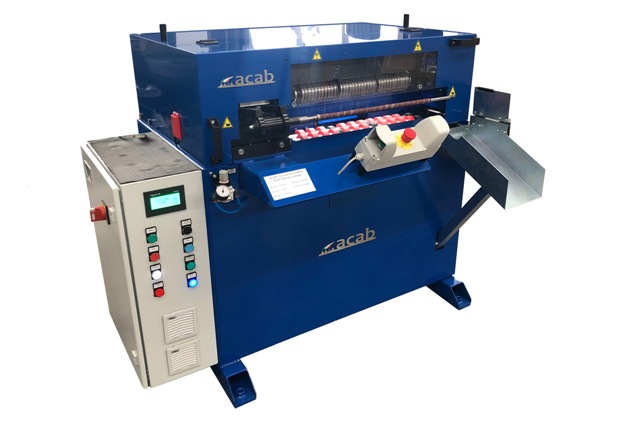 Machine suitable for cutting abrasive tubes, having straight or spiral joint.
Compact and easy to use, it grants very high productivity.
Machine uses knives-holding shafts, provided with quick-clamp system that permits a significant time saving when passing from a cutting width to another.
Each tube is completely cut into small bands in one single machine cycle.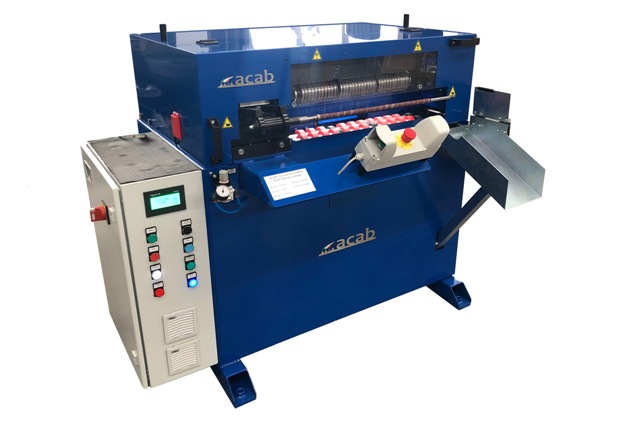 Maximum length of the abrasive tube to be cut: 480 mm
The minimum width of the small bands to be cut is normally 12 mm. Possibility to produce at different widths can be evaluated upon request.
At each cycle, one abrasive tube is loaded on the supporting shaft, made of hardened steel.
When the two-hands buttons are pressed, the cycle is activated and the supporting shaft is automatically brought to the cutting system and it is pressed against the knives assembly by means of a pneumatic drive, at adjustable load.
The knives assembly is rotated at adjustable speed by means of an electric gearmotor.
The cutting time can be adjusted from the control panel: when the cutting time has elapsed, the supporting shaft automatically exits from the cutting system and the small bands can be manually discharged.
The supporting shaft and the knives assembly have to be replaced according to diameter and width of the bands to be cut. These set-up operations are easy and quick.
Diameter of the small bands / spiral bands: 12÷ 76 mm (1/2" ÷ 3")
Length of the small bands / spiral bands: 12 ÷ 76 mm (1/2" ÷ 3")